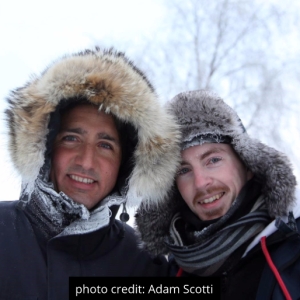 Thanks to his job with the Liberal Party of Canada, Mat Snowie (Bachelor of Arts '13, Major in Creative Writing) has now seen almost every part of the country and met a lot of high-profile politicians and celebrities along the way – including, of course, Prime Minister Justin Trudeau, whom he films every few weeks.
As the Liberal Party of Canada's videographer, Mat is responsible for all the video recording and animation work done for the Liberal Party, which includes video messages from the Prime Minister and MPs; and videos and animations explaining policies, promoting events and highlighting fundraising campaigns. He is also involved in the Liberal Party's live productions, which are broadcast to Facebook, and he produces special video products for everything from their biennial conventions to staff parties.
"The ever-changing nature of current events, politics and social media means that I always have new challenges and opportunities," says Mat. "I get to explore new technology and keep up to date with new digital video techniques in an industry that is changing daily."
Mat's career started off with a three-month paid internship in 2014, which turned into a contract through to the end of the 2015 election, during which he spent a lot of time on planes, in hotels and following the soon-to-be Prime Minister from event to event. One highlight of that time was celebrating his birthday with the campaign team.
"I turned 26 during the election," he remembers. "My birthday was actually five days before election day, so by then we'd been living out of suitcases for two months and sleeping in different hotels every night. But that evening on the plane, as we relocated for the next day's events, I was surprised by a cake and Justin Trudeau leading all the staff and journalists in a rendition of 'Happy Birthday.'"
Following the election, Mat was offered an expanded role after the new government was sworn in. He credits his BA and the extracurricular activities he participated in while at VIU with giving him the unique skill-set needed to be successful at his job. While studying at VIU, Mat was also published in two issues of Portal, a student-run literary magazine; wrote film articles for the Navigator student newspaper; wrote and directed scripts for the VIU Satyr Players acting group; and directed the year-end show for the senior acting class in 2013.
"Working on short non-fiction showed me the value of being clear in my writing, and working on theatre scripts gave me an ear for what sounds best out loud," says Mat. "And when I write animation scripts, it's useful to know how to write things in six words instead of 20."
Mat hopes to one day apply these skills to making movies or TV shows in Hollywood, and he might also take a stab at writing a novel. In the short term, he is looking forward to being a part of Trudeau's 2019 re-election campaign.