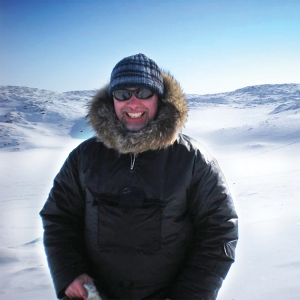 Sean Broderick, BA (with Distinction), 1999, Major – Liberal Studies
Sean Broderick is a VIU vet.
The 46-year-old education professional first attended the school in 1996, when it was called Malaspina University-College. Over the years, he's earned several credentials from the institution, ranging from a diploma to a Master's of Educational Leadership with Distinction (the latter was accompanied by a Governor General's Academic Gold Medal, given for the highest grade point average at VIU's graduate level).
Broderick, a Nanaimo resident who has been based in Nunavut since 2009 (he's currently working there as a high school program consultant), credits his wide-ranging BA as having a big impact on his career. "From a professional perspective, it's a huge benefit as an educator to have a broad understanding across the disciplines," he says. "It expands your instructional capacity and informs your world view, which benefits your students and yourself."
For example, he proudly notes that his Liberal Studies teachers included scientists, a philosopher and a psychologist. "It opens your eyes and your mind to multiple perspectives and opinions," he says.
A true lifelong learner, Broderick is currently enrolled in VIU's Online Teaching and Learning Graduate Diploma program. "I'm very proud of the education I've received, and I'm very proud to be an alumni of the institution," he says. "I'm just waiting for them to offer a doctorate."