2018 Winners of our Geography Department Awards
Congratulations to all of our 2018 Geography Department award winners!
Geography Research Day Best Presentation: Trevor Dickinson
Award for Service to the Geography Department: Kayla Harris
Carto Cup 2018: Lena Ware
CAG Undergraduate Award: Trevor Dickinson
Lady Rose Award: Jessica Pyett
Also: NSERC Undergraduate Student Research Award: Trevor Dickinson
VIU Geography Students Research Barriers to Bio-Diesel Use
"What stops a person from adopting a change in their business operations, and what factors could convince them to make that change?
Students in Vancouver Island University (VIU) Professor Dr Matthew Bowes' upper-level Cultural Geography class are attempting to answer these questions as part of his latest research project, which looks at the barriers and benefits to bio-diesel use in commercial, industrial and institutional vehicle fleets within the Regional District of Nanaimo…" For full article go to https://news.viu.ca/viu-geography-students-research-barriers-bio-diesel-use
VIU News May 11, 2018 - 9:45 am MEDIA CONTACT: Jenn McGarrigle, Communications Officer, Vancouver Island University P: 250.740.6559 | C: 250.619.6860 | E: Jenn.McGarrigle@viu.ca | T: @VIUNews https://news.viu.ca/viu-geography-students-research-barriers-bio-diesel-use
3M Fellowship Reception for Pam Shaw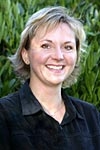 Congratulations to Pam Shaw (Geography Prof and Director of the Master of Community Planning Program) for receiving the 2018 3M National Teaching Fellowship!
"The 3M National Teaching Fellowship is sponsored jointly by 3M Canada and the Society for Teaching and Learning in Higher Education (STLHE)...It is the only pan-Canadian, cross-disciplinary recognition of educational leadership and excellence in post-secondary teaching." https://www.stlhe.ca/wp-content/uploads/2018/02/3MNTF_2018_PressRelease_E.pdf
Global Citizenship at the Heart of VIU's GIS Training Program in Ukraine
"NANAIMO, BC: In the spirit of global citizenship, professors from Vancouver Island University (VIU) have helped Ukraine launch a training program in Spatial Data Infrastructure (SDI) to support sustainable economic growth. The program is the culmination of a five-year partnership between VIU, the Igor Sikorsky Kyiv Polytechnic Institute (KPI) and Taras Shevchenko National University in Kyiv.
VIU professors and instructors worked with their Ukrainian counterparts to co-develop six SDI courses, translate them into Ukrainian and deliver them to more than 150 Ukrainian civil servants. The aim of the partnership, funded by Global Affairs Canada, is to improve access to spatial data and web mapping technology used to support sound policy development..." For the full article go to https://news.viu.ca/global-citizenship-heart-vius-gis-training-program-ukraine
March 19, 2018 - 3:45 pm MEDIA CONTACT: Aly Winks, Communications Officer, Vancouver Island University P: 250.740.6529 | C: 250.618.7930 | E: alyson.winks@viu.ca | T: @VIUNews https://news.viu.ca/global-citizenship-heart-vius-gis-training-program-ukraine
GEOG 433 Special Topics in Geography: The Geography of Music (Spring 2019)
A thorough examination of an important present-day issue, trend, or concept in the discipline of geography. Topics will vary by offering but will focus on a subject of significance to human geography, physical geography, or geographical techniques. Next spring, the geographical origins and dimensions of music. May be repeated for credit up to three times for different topic.  
Monday & Wednesday 11:30-13:00
Instructor: Don Alexander  
3 credits
open to any VIU student with 3rd year standing
2018 Carto Cup Competition
And the winner of the 12th Annual Cartographic Design Challenge is... ADGIS student Lena Ware! Lena entered a map that she worked on as part of her ADGIS program. Her map shows a "Summary of Ecosystem Loss on Saltspring Island between 1992 and 2014." For a list of past winners and other contest details, please see the Carto Cup website.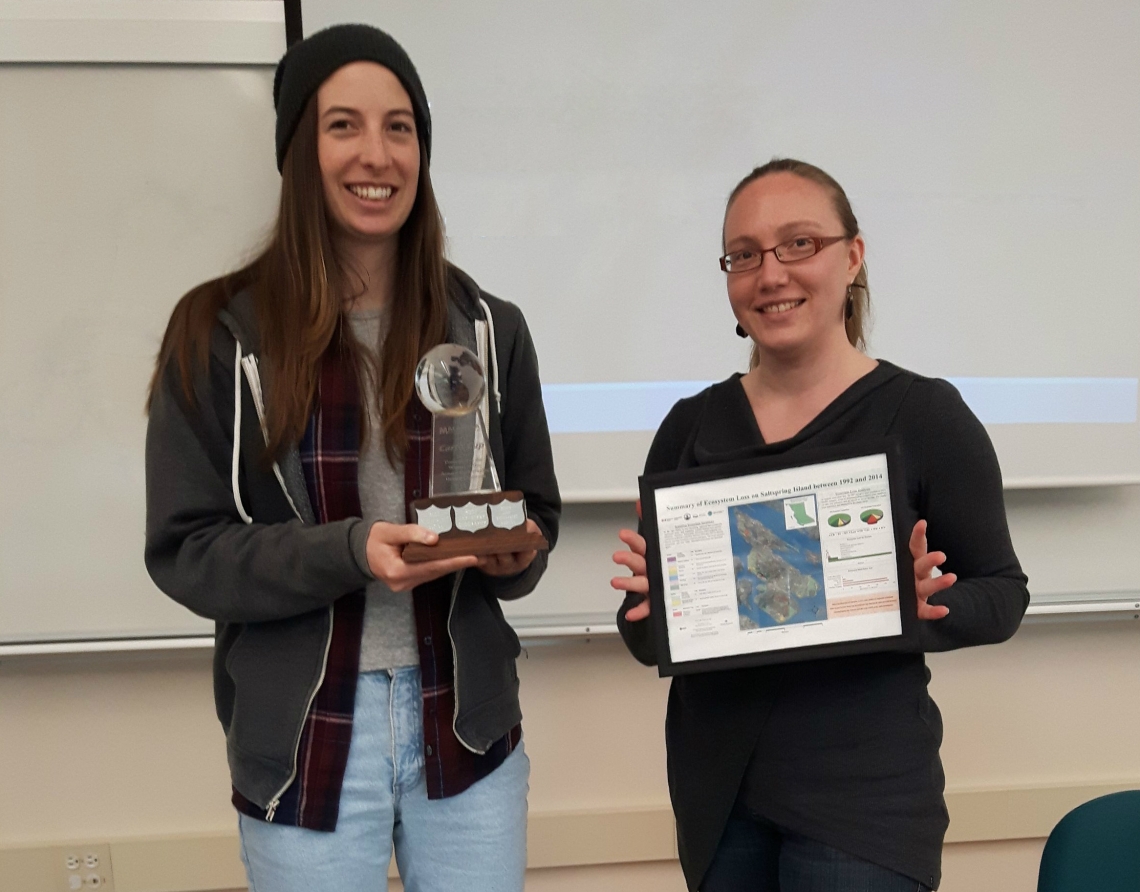 Lena Ware (ADGIS Student) and Jessica Craig (Geography Technician)
Congratulations to Larissa for having her paper published in The Canadian Geographer!
Larissa's research started as a GEOG 491: Research Project. With time, dedication, hard work and guidance from supportive faculty, she managed to create an excellent paper. It was published by The Canadian Geographer this past spring.
Larissa Thelin, Jeff Lewis, Alan Gilchrist and Jessica Craig. 2018. The potential effects of climate change on the habitat range of the Vancouver Island marmot (Marmota vancouverensis). The Canadian Geographer / Le Géographe canadien. doi.org/10.1111/cag.12448
WDCAG Conference 2018
The VIU Geography delegation of upper-year students Spencer Croft, Trevor Dickinson, Kayla Harris, and Geography Technician Jessica Craig, attended the Western Division of the Canadian Association of Geographers (WDCAG) conference in early March at the University of Alberta in Edmonton.
Congratulations to Kayla on her presentation "A Land Use Change Detection Analysis of Wetland and their Potential Connection to Groundwater Recharge: Case Studies in the Regional District of Nanaimo" and poster "Barriers and Benefits to Bio-diesel use in Commercial and Industrial Vehicle Fleets in the Regional District of Nanaimo." Congratulations also to Trevor Dickinson on his presentation "The Impacts of Avalanche Activity and Snowpack Creep on Vancouver Island Marmot Habitat in a Changing Climate." Jessica Craig also presented on her "Adventures in Geography Education with Grandchildren and Grandparents; Summer Camp at Vancouver Island University." 
Thanks to the collaborative work by colleagues from The King's University and The University of Alberta for putting together such a smoothly run conference. The VIU Geography Department looks forward to next year's meeting hosted by the University of Victoria.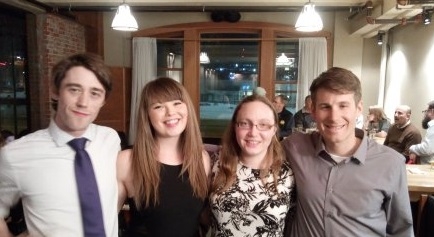 The VIU Contingent at WDCAG 2018 in Edmonton AB
Fall 2017: 12th Annual Urban Issues Film Festival and a showing of 'Chasing Coral'
Two successful events were sponsored by the Geographic Students Union and the Department of Geography during the week of November 6th. The first, on November 7th, a film showing of "Chasing Coral," followed by a panel discussion of three experts on the challenges facing coral reefs – including BC's unique glass sponge corals – was attended by between 70 and 80 people. It was characterized by vigorous discussion and free pizza at the end of the night.
The second, on November 10th, was the 12th Annual Urban Issues Film Festival. There was much active discussion of the films and speakers which were organized around the theme of "Tactical Urbanism and the Creative City." GSU members played a particularly important role, coordinating the pizza dinner, staffing the registration table, introducing films and leading discussions, and providing beverages, like juices, tea and coffee. All in all, organizers and attendees seemed quite satisfied with the two events.
GrandKids University Summer Camp 2017
The Geography Department was excited to be a "major" part of GrandKids University again this summer! This program gives grandparents the opportunity to take their grandchildren to university and work together in a learning partnership to earn a GrandKids U degree with a "major" in a subject area. Geography "majors" had fun working with Geography Technician geocaching, reading maps and compasses, working together to design the coolest park ever, collecting weather data with instruments, becoming human sundials, examining the properties of rocks and minerals, and working together to solve an Escape Room. Also, many thanks to the MABBRI volunteers that helped us put on such a fun camp!